Guru Shukracharya Mandir

This unique temple dedicated to Lord Shukracharya is at a distance of 15 Kilometers from Shirdi on Ahmed Nagar Manmad Highway. This is the first of its kind temple in the entire world and is more than 400 years old.
Brief History of Shukracharya:
Guru Shukracharya was a Bhargava rishi of the Atharvan branch and a descendant of sage Kavi. The Devi-Bhagavata Purana refers to his mother as Kavyamata. The feminic natured Shukra is a Brahminical planet. He was born on Friday in the year Parthiva on Sraavana Shuddha Ashtami when Swati Nakshatra is on the ascent. Hence, Friday is known as Shukravaar in Indian languages like Sanskrit, Telugu, Hindi, Marathi, Gujarati, Oriya, Bengali, Assamese, and Kannada. He went on to study the Vedas under the rishi Angirasa but he was disturbed by Angirasa's favouritism for his son Brihaspati. He then went to study under rishi Gautama. He later performed penance to Lord Shiva and obtained the Sanjivani mantra (a formula that revived the dead). He married Priyavraja's daughter Urjaswathi and they had four sons — Chanda, Amarka, Tvastr, Dharaatra and a daughter by name Devayani.
During this period Brihaspati became the Guru (Preceptor) of the Devas. Due to the hatred he bore towards Vishnu for what he perceived as the murder of his mother as she had given shelter to some asura whom Vishnu was hunting, Shukracharya decided to become the Guru of Asuras. He helped them achieve victory over the Devas and used his knowledge to revive the dead and wounded among them.
Devayani was the daughter of Shukracharya, who was rejected by the son of Brihaspati, Kacha. She later marries Yayati who founds the Kuru dynasty.
In the time of the Mahabharata, Shukracharya is mentioned as one of the mentors of Bhishma, having taught him political science in his youth.

Brief History of Shukracharya Mandir:
Kopargaon was the favourite residence of Raghunathrav or Raghoba, the father of Bajirav II, the last Peshva. Raghoba was cremated at Hingni, a place three miles off, where one of the palaces of Raghunathrav has a cenotaph of his. In 1804 Balaji Lakshman, the Peshva's Governor of Khandesh and Manohargir Gosavi inveigled 7,000 Bhils into their power at Kopargaon and threw most of them into two wells. In 1818 Kopargaon was occupied by Madras troops. As per tradition it is believed that Shukracharya, the Guru of the demon king Vrishaparva, obtained the knowledge of Sanjivani vidya at Kopargaon.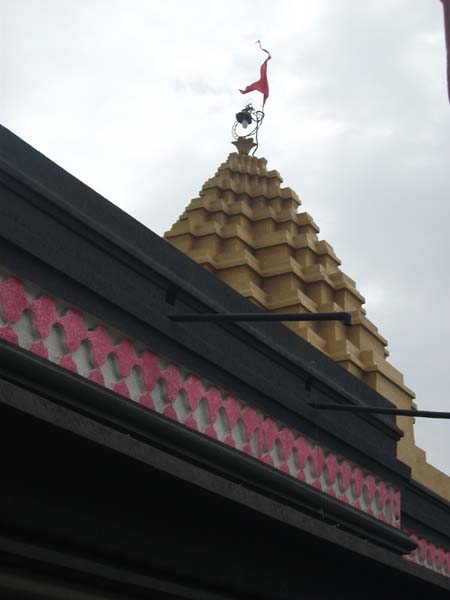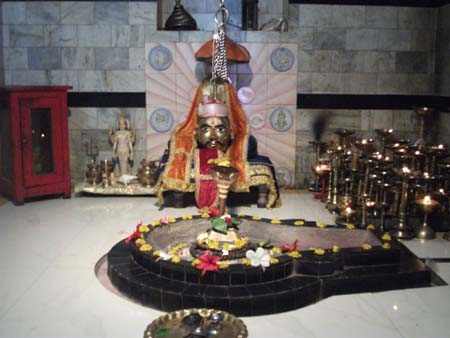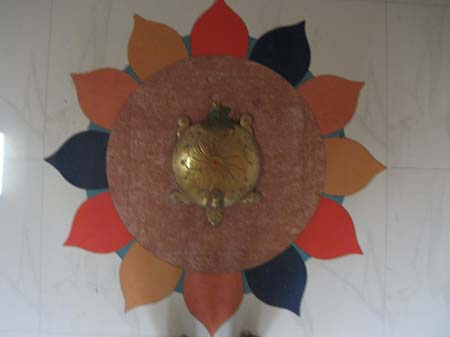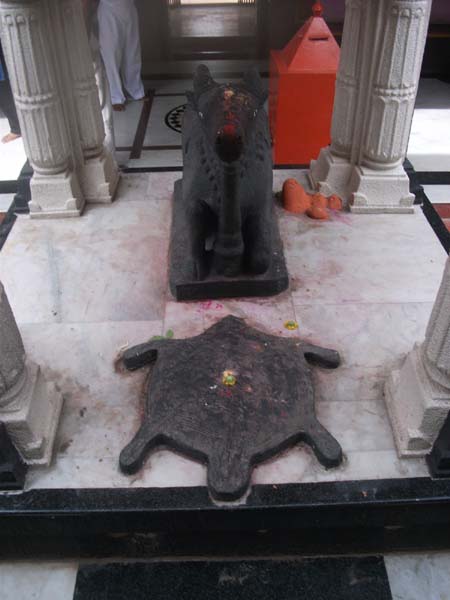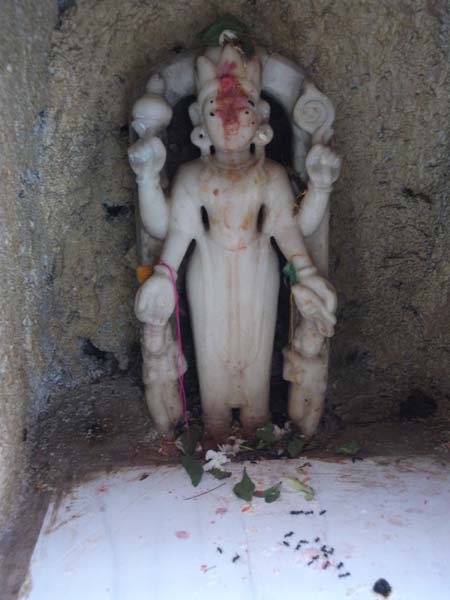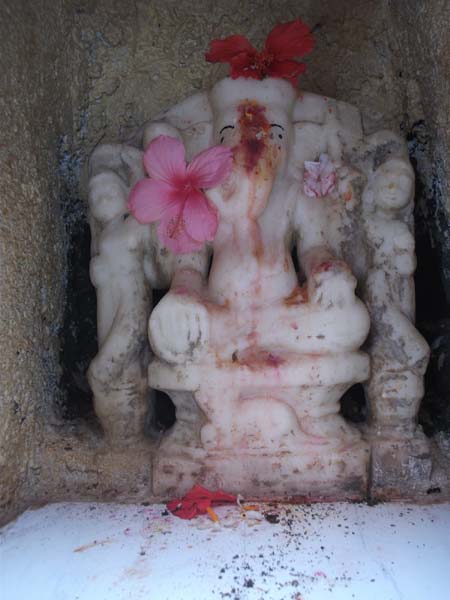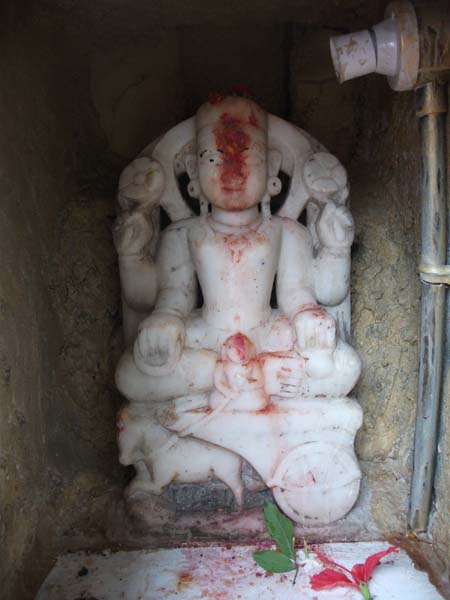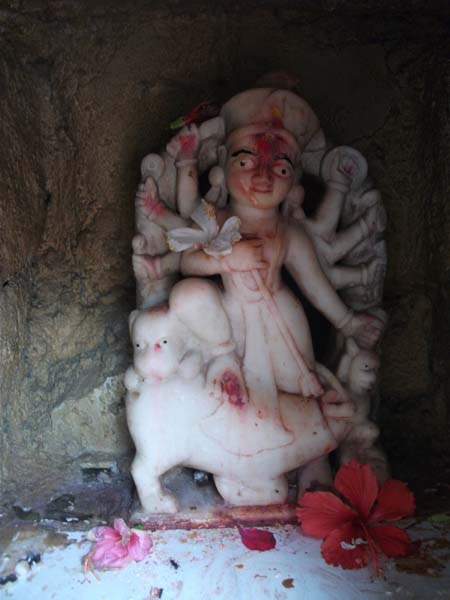 The Temples dedicated to Shukracharya, Devayani and Kacheshvar stands near the site of the old palace in the island. The temple is a set of plain buildings and is held in great honor.
Lord Shankar and Shukracharya are analogous to each other and as such countenancing Shukracharya on Mahashivaratri Day or any other auspicious time is accounted as having countenance Lord Shankar himself and the devotees would acquire righteous rewards owing to blessings given to Shukracharya by Lord Shankar also known as Lord Shiva. It is for this reason that people from all over the World throng at this temple on the auspicious day of Mahashivaratri and other auspicious days of the year. Hence, this is World's Unique Temple.
The Idol of Guru Shukracharya and Shivaling are present in the main temple. Black Stone Idol of Nandi and Tortoise in front of Nandi are present outside the main Temple.
Temples dedicated to Ghat Ganapati, Durga, Vishnu, and Dattatreya are also present outside the main Temple. The temple is built as per the Shiva Panchayatana Style.
Temple dedicated to Lord Kacha, Devayani are also present in the village and is maintained by the same Temple Trust.

The Family Tree of Guru Shukracharya:
The family tree of Shukracharya is given below for the benefit of Devotees: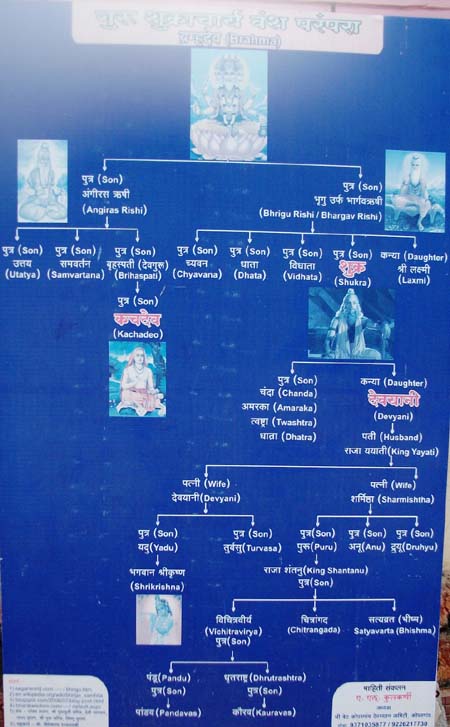 Daily Pooja Details:
5 AM – Nirmalya Visarjana, Cleaning of the Temple Premises
6 AM – Shodashopachara Pooja, Rudrabhishek and Alankar.
10:30 AM – Mahanaivedya to Lord.
12:00 Noon – Aarti & Mahaprasad.
4:00 PM – Evening Pooja, Nirmalya Visarjana and Cleaning of the Temple Premises.
7:00 PM – Lighting of Mandir Premises.
8:00 PM - Shodashopachara Pooja, Rudrabhishek, Alankar and Mahanaivedya to Lord.
9:30 PM – Dhoop Aarti and Shej Aarti. Mandir Closes.
Large Scale Celebration of Festivals:
Chaitra Shuddha Pratipat, Gudi Padwa, Meeting of Shukracharya with his student Kacha.

Vaishaka Shuddha Tritiya, Akshaya Tritiya

Jyeshta Masa – Sri Gangamayi 10 Day Festival.

Ashadha Masa – Daily Special Pooja.

Shravana Masa – Special Pooja is performed on 4 Monday's of the month. Palanquin Procession from Mandir to Godavari River and back to Mandir from 4 PM to 6 PM followed by Special Aarti.

Badrapada Shuddha Chaturthi – Ganesha Chaturthi – Palanquin Procession.

Ashwayuja Shuddha Dashami – Vijayadashmi – Palanquin Procession.

Kartika Masa – Kartik Poornima – Palanquin Procession.

Margashira Masa – Daily Pooja & Naivedya.

Pushya Masa – Makara Sankranti Utsav – Til Abhishek is performed daily to Lord Shukracharya.

Magha Masa – Maha Shivaratri Festival – Palanquin Procession. A fair is held at Kopargaon on the day of Mahashivaratra, i.e., Magha Vadya 14 (January-February). About 10,000 people assemble at the time of the fair.

Phalguna Masa – Holi Poornima Festival.
Location & Direction:
Location:
Bhet Kopargaon, Kopargaon Taluk, Ahmed Nagar District, Maharashtra
Address:
Guru Shukracharya Mandir
C/o. Shree Bet Kopargaon Devasthan Committee,
Village: Bet – Kopargaon,
Taluk: Kopargaon,
District: Ahmed Nagar,
Maharashtra, India,
Pincode: 423 601.
Contact persons:
Sri.Balasaheb Maloji Avadh – President / Sri.A.L.Kulkarni– Chairman / Sri.Narendra Purushotham Joshi - Guruji/ Sri.Ramesh Bhagwat Gurav - Purohit.
Contact Numbers:
+ 91 92262 17730 / +91 93710 35877 / +91 92262 17730 / +91 99752 24281 /+91 2423 223255
Direction:
This Temple is at a distance of 15 Kilometers from Shirdi on Ahmed Nagar Manmad Highway. Plenty of share autos are available from Shirdi to reach this place.
(Source: Personal Interview with Shri.Narendra Purushotham Joshi, Guruji of the Temple on 2nd August 2012)